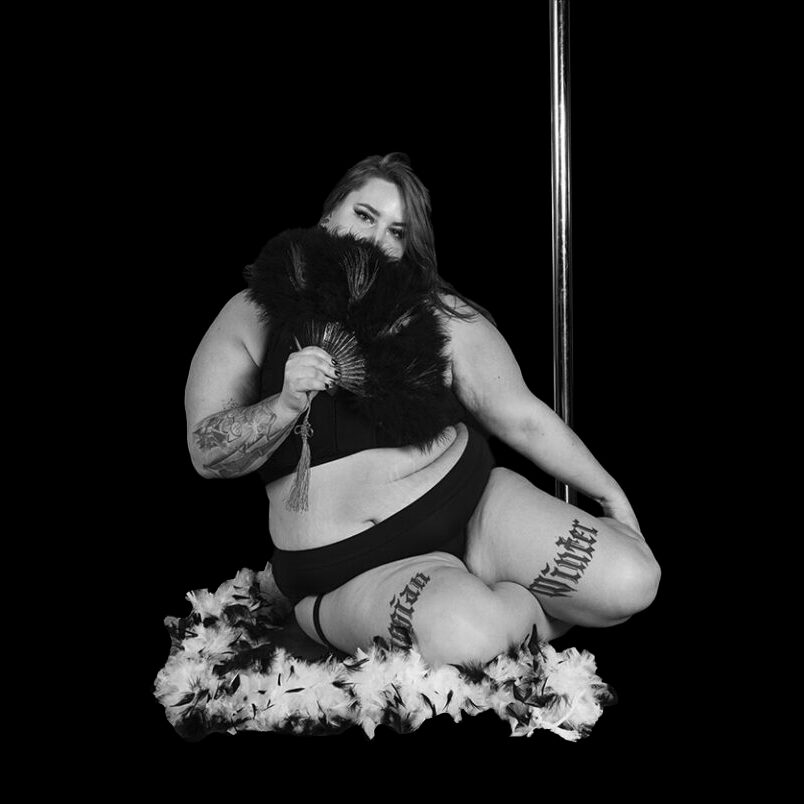 You were not made to be subtle!
Signature Six-Week Series: $89
Our Signature Six-Week Series includes one 55-minute session per week. Each session occurs at the same time and on the same day of the week for six consecutive weeks.
We have designed our Signature Six-Week Series to morph seamlessly from session to session and series to series. Each session starts with a full-body warmup, targets cardiovascular fitness, endurance, and flexibility, incorporates level-appropriate movements and choreography, and ends with a targeted cooldown. Enrolling in a Signature Six-Week series allows you to grow, learn, and explore with the same group of students!
If you have a fluctuating schedule, or difficulty attending a complete six-week series, drop-in options may be available at the time of booking.
Introduction to Pole Fitness
Your pole fitness journey is about to begin! This routine-based series explores pole fundamentals, body awareness, simple spins, transitions, and easy, but impressive, sequenced choreography. Prerequisite: None
Pole Fitness Basics
Are you ready for a new challenge? This routine-based series builds upon your pole foundation and introduces new spins, transitions, pirouettes, climbs, choreographed sequencing, and more in-depth attention to form. Prerequisite: Introduction to Pole Fitness
Introduction to Aerial Pole Fitness
Get ready to see pole fitness from a new perspective; we're taking things upside down! This aerial series will build a solid foundation and prepare you for pole inversions, leg hangs, climb variations, and safe dismounts. You are strongly encouraged to repeat this series until you have developed a secure and reliable inversion technique. Prerequisite: Pole Fitness Basics

Aerial Pole Fitness – Intermediate
Are you ready to defy gravity? This series builds upon your reliable inversion technique. You will continue to develop strength, control, and clean lines as we focus on intermediate-level inversions, additional grips and dismounts, and challenging holds that require smaller and fewer contact points. You are strongly encouraged to repeat this series until you have mastered all moves. Prerequisite: Introduction to Aerial Pole Fitness
Aerial Pole'ography and Fluidity – Intermediate
Get ready to define your unique artistry and style? This routine-based series leans into the dance elements of pole fitness and encourages you to explore your connection to movement, musicality, and fluidity. Prerequisite: Aerial Pole Fitness - Intermediate

Aerial Pole Fitness - Advanced
You should be very proud—you have reached an elite level of fitness. This series will push you to the pinnacle of strength and stamina as you conquer the highest level of flexibility and strength-based tricks, holds, drops, and intricate transitions. You are strongly encouraged to repeat this series until you have mastered each move. Prerequisite: Aerial Pole Fitness - Intermediate
Aerial Pole Fitness - Advanced Plus
This series requires the highest level of strength, stamina, and flexibility. You will achieve your loftiest pole goals—from exciting transitions to dynamic moves with only 1-2 points of contact. This class is consistently changing to align with advancements in the pole fitness industry. Prerequisite: Instructor Invite/Approval
Pole Conditioning
This series will improve your strength, posture, flexibility, balance, and joint mobility while paying close attention to body mechanics, isolation, and technique. Movements will be modified to accommodate your fitness levels and any area(s) of concern. You are encouraged to bring a yoga mat and wear layered athletic apparel to keep your muscles warm as you stretch.
Art of Chair Dance
We know you're already asking yourself—what's the difference between lap dance and chair dance? There are no laps in chair dance! This routine-based series will have you climbing, flipping, standing, spinning, laying, and dancing! Fast and Flirtatious? Slow and Sultry? Chair Dance is a great way to incorporate additional cardio while focusing on lower body and core muscle control. Choreography varies based on the instructor or class theme.
Burlesque
Are you ready to tease like an old school siren? This routine-based series is all about the art of the tease and feeling sexy in your skin! Sultry choreography will have you bumping like Bettie, dazzling like Dita, and mesmerizing like Marilyn! And don't worry, we won't be taking off any clothes.
Liquid Motion ®
Liquid Motion® utilizes elements of conditioning, sensual movement, body awareness, and dance theory to build a foundation for intricate floor flows & wall work. You are encouraged to wear fitted athletic pants, a long sleeve shirt, and legwarmers or cloth-style knee pads. Leg Warmers and knee pads are available for purchase at Miss Pole. Heels are optional.

Groups of seven (7) or more may request a private Signature Six-Week Series for any discipline. The per-person cost remains the same as a public series; however, the group organizer will receive one free enrollment. Private Signature Six-Week Series can be booked any day of the week, between 8:00 AM and 9:00 PM, subject to studio availability.

Are you ready to practice on your own without guided Instruction? 55-minute Open Studio Sessions are unattended, which means that an instructor is not present or available to provide Instruction. UNDER NO CIRCUMSTANCES are you allowed to instruct other students. You must work within your abilities and utilize a crash mat while practicing aerial pole moves.
Private & Semi-Private Sessions: $65/$125
Private and semi-private sessions are 60 minutes long and are available for any discipline. Private and semi-private sessions are ideal if you prefer to learn at your own pace, receive individual attention from one of our talented instructors, or focus on perfecting an established routine. Semi-private sessions may include up to three students. 
Private and Semi-Private sessions are non-transferable and non-refundable for any reason. No-shows or cancellations within 48 hours of a session, will forfeit the full lesson cost as well as the opportunity to reschedule. 
Are you interested in developing your very own routine? Contact us for more information on custom choreography sessions.
Signature Workshops are for students of any fitness level! 60 minute, routine-based workshops start with a full-body warm-up, features easy to learn choreography and ends with a cooldown. Workshops are a great introduction to any Signature Six-Week Series!
Burlesque Babe
Get ready to channel your inner showgirl. Think musical theater with more sex appeal and a little less technique!
Chair Tease
Are you ready to sweat—and feel sexy doing it? This exciting, fast-paced, routine-based workshop features chair moves, wall-work, walks, tricks, transitions, and easy-to-learn choreography.
Find Your Flow
Are you ready to explore your authentic style, artistic expression, and limitless creativity? Find your Flow will enhance total body awareness, build confidence in your ability to move freely, and evolve the way you approach freestyle, both on and around the pole.
Head Over Heels
Are you ready to overcome unsteady steps and tame your sexy stilettos? There's no feeling like trying on your first pair of pole heels! Heels are exhilarating—they lengthen your lines, improve your posture, and accentuate your assets. But, in pole fitness, a heel isn't just a heel, and size always matters. Head Over Heels focuses on purposefully fusing your pole practice with platforms. It features muscle toning movements for ankle strength and stability, impressive heel clacking combos, proper weight distribution for walks and spins, and counterbalancing for full-body finesse.
Inversion Therapy
Inversions are the foundation of your aerial pole journey! This workshop focuses on the critical elements of a pole invert—safety, technique, conditioning, and endurance.
Ladies' Night
Round up the ladies and prepare yourself for pole fitness, chair dance, and lots of laughter! This combination workshop is all about flow, fitness, and fun!
Pole Virgin
Are you curious about pole fitness? This fun, light-hearted, routine-based workshop features introductory spins, walks, transitions, and easy to learn choreography.
Several times per year, Miss Pole holds donation workshops for various charities, organizations, individuals, and families within our communities. 100% of donations always go directly to the events we sponsor. There are no expenses; Miss Pole, Miss Pole Instructors, and staff, or partners of Miss Pole donate all time and resources. We live, work, and play in these communities—giving back is ALWAYS important. We don't limit the scope of our efforts to a specific demographic or cause; we support issues that are important to our communities.
In addition to our signature workshops, Miss Pole hosts a variety of workshops taught by the most sought after
National and International Pole Instructors. External Instructor workshop prices will vary.
Studio Rental & Events: Prices Vary
Personal Use: $65 Per Hour
Personal studio rental is strictly for practice, rehearsal, or photos/videos captured on your cell phone. They are not for photoshoots, film, or tv shoots. Failure to adhere to these conditions will result in early termination of studio rental without refund. Contact customercare@misspole.com to book your personal use studio rental.
Professional Use: Prices Vary
Reserve a space for professional videos, promotions, photoshoots, television shows, and much more.
External Instruction: Prices Vary
Book, the Miss Pole studio, to teach fitness classes, workshops, or private sessions. Our rental model allows you to set your schedule and student rates. At the time of booking, external instructors must hold a current fitness certification or equivalent experience, provide a detailed description of the proposed activity, and submit proof of appropriate Insurance coverage. Contact customercare@misspole.com for additional details.

Miss Pole has portable poles that are available for rental. Portable poles are ideal for outdoor performances,
photoshoots, or events. Set up and transportation is not available.
Miss Pole isn't just about our Signature Six-Week Series, Workshops, and Parties—we're available for public and private events as well. Each year, we work with colleges, businesses, and charitable organizations, to raise awareness and rally around causes that are important to our communities. We do not do in-home events.