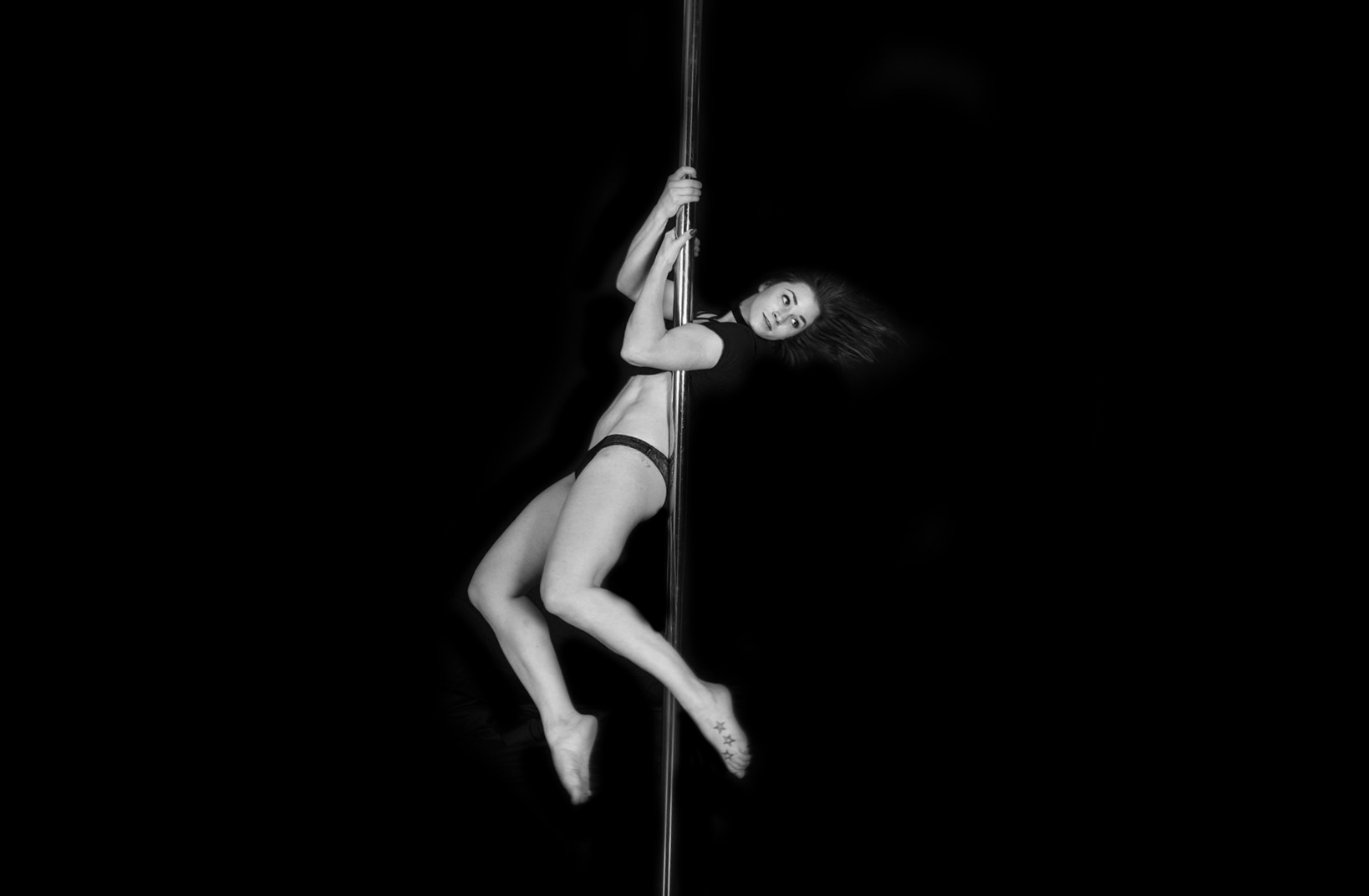 Your body hears everything your mind says!
Frequently Asked Questions
If you're interested in pole fitness, our Signature Six-Week Introduction to Pole Series is where your journey begins! You are also welcome to attend any Open Level (Non-Pole) Signature Six-Week Series. With no prerequisites, open levels series are a fantastic non-pole option for you to supplement your workout regimen with new and exciting classes.
Welcome to the self-imposed roadblock section of our FAQs! There will always be hundreds of reasons not to try pole fitness; don't let any of these be yours—I'm not at my ideal weight, I can't dance, I have no upper body strength, I'm too "old," I haven't exercised in years, etc. If you're envisioning a room filled with young, perfectly fit, flexible, and incredibly strong women. STOP. Now envision the women in your life—your neighbor, sister, mother, grandmother (yes, grandmother), friend, or co-worker. These are the women who fill our studio—real women who are all on a journey to develop, connect, inspire, and learn.
Wear whatever you feel comfortable wearing! We recommend athletic apparel that allows you to move freely. Pole fitness is a workout, not a fashion show—you do not need to purchase any new workout gear, style your hair, or apply makeup! Just like the gym, you're going to sweat! As you progress through levels, you'll discover that many advanced moves rely on skin to pole contact and require shorts and a tank top.
The infamous 7" heels certainly look amazing, but going barefoot is strongly recommended. As you master the basics, you are more than welcome to wear heels constructed for pole fitness. We recommend Pleaser brand heels; they can be purchased at Miss Pole and start at $35 per pair.
You should not apply lotion, moisturizer, or oil-based fragrance the day of your pole fitness class. As you sweat, you will release oils back to the surface of your skin, and you will be unable to grip the pole safely. Please remove hand and wrist jewelry as it may affect your grip, damage jewelry, and scratch the pole. Under no circumstance are undergarments allowed to be worn in place of workout attire. You may not wear street shoes in the studio area.
Absolutely not! Our fitness poles will support women of all shapes, sizes, and weights! Poles are installed securely and checked regularly for safety.
Signature Six-Week Pole Series will not exceed 12 students. In the event of a unique situation, where a series has more than 12 students, you will be notified in advance and allowed to transfer.
Signature Six-Week Series fill up quickly. You are encouraged to sign up as soon as possible; however, we will attempt to accommodate drop-in students.
Oddly enough, this is a common question. Absolutely! The majority of our students start a solo pole fitness journey. You'll feel right at home, surrounded by a warm and welcoming group of students.
For each student you refer, you will receive referral credit. You can find additional information in our online booking system. 
Congratulations! Many students choose to continue their Pole fitness journey during or immediately after their pregnancy. We do not recommend or encourage students to continue aerial pole fitness while pregnant. However, it's a decision that only you and your doctor can make. If you are determined to maintain your practice, with your doctor's approval, we recommend enrolling in a beginner or open-level series to focus on skill maintenance and choreography.
There are numerous differences, but our favorite is the emotional reward. The excitement students get from mastering a move and expressing their individuality is indescribable. The combination of athletic skill and artistic influence makes pole fitness incomparable to any other form of dance or sport.
Pole fitness is excellent for your mind, body, and soul! Our medium to high-intensity routine-based series targets large and small muscle groups and provides an isometric and cardiovascular full-body workout. Research, and our day-after-day observations, show that pole fitness increases flexibility, joint mobility, coordination, balance, kinesthetic awareness, overall stamina, and contributes to weight loss.
Pole fitness is also a psychological tool, a strategy to manage stressors and recognize your emotions. It provides an opportunity to practice mindfulness, focus on the present moment, and feel the thrill of your pole fitness experience.
From time to time, we offer pricing discounts through our newsletter and our social sites.
You can call the studio or stop in during office hours. Lost and found items are held in a secure location until claimed. Items that remain after six-weeks will be donated or discarded. If items appear to be sentimental or of significant value, they may be held for up to one year.
While our front office may be closed, the studio will be open and your instructor will be present.